MANALO NG P1,000.00 BAGO MAG-PASKO!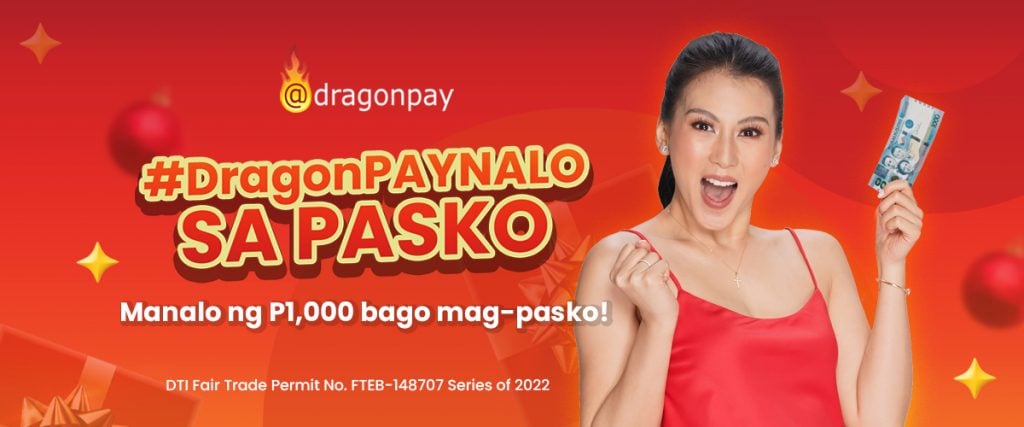 This giveaway is open to all users on Facebook and Instagram based in the Philippines.

By joining this giveaway, the participants confirm that they read, understood, and agreed to the mechanics and its Terms & Conditions.

The Giveaway will run from Dec 1 -15, 2022.


Participants are encouraged to follow Dragonpay's official facebook and instagram account (@dragonpayofficial)
Participants must register to submit a raffle entry via this link to join.


Name
Address
Mobile Number
Facebook/ Instagram Account
Tagged Facebook / Instagram Account
Screenshot of the comment
Government ID

Each participant will receive a copy of their raffle entry via the email address provided.

Participants are allowed and encouraged to submit multiple entries as long as they are tagging unique instagram account to increase their chances of winning.




Once a participant is selected as a winner, they are not allowed to win again.

An official Dragonpay representative will select twelve (12) winners following the schedule below using Dragonpay's online raffle system in the presence of a DTI Representative
The prizes and winner announcement dates are as follows:
Post Duration
Draw Schedule
Winner Announcement Schedule
Winners & Prizes
Dec 1, 2022 – Dec 12, 2022
Dec 13, 2022 10:00 AM PHT
Dec 15, 2022 1:00 PM PHT
12 winners of ₱1,000
Dragonpay is not obliged to shoulder the taxes nor required to withhold taxes on the cash prize since it is below Php 10,000.

Prizes are NOT transferable unless a duly notarized consent from the winner will be presented.

All winners will be announced via Dragonpay's official Instagram & Facebook account (@dragonpayofficial).


An official representative from Dragonpay shall contact the winner via the contact information given such as FB/IG direct message, mobile number, email address to discuss the method of claiming the prize. He/she will also be notified via registered mail.
The winner will be given the option to claim the prize through different methods:

Cash via pick up at Dragonpay Office at:
2/F WRCC II BLDG 47 DRAGON STREET CORNER GIL FERNANDO AVENUE SAN ROQUE MARIKINA CITY


E-wallet

Bank Transfer

If the winner wants to claim the prize through an authorized representative, the following are required:

Any valid government ID of the winner

Any valid government ID of the authorized representative

Authorization letter hand signed by winner

The winner will be given 60 days to claim the prize, otherwise, it will be forfeited in favor of Dragonpay, with prior approval from DTI.

When the winner provides their information to Dragonpay Corporation, they consent to allowing Dragonpay Corporation to collect and process their personal information for the purposes of this contest and to validate the winners in accordance with the Data Privacy Act of 2012 (R.A. 10173) and Dragonpay's Privacy Policy.
Visit https://www.dragonpay.ph/privacy-policy/ 1 to see our privacy policy.


The prize will be sent to the winner via the agreed-upon method and date.
Users who fail to follow the conditions within the indicated time frame will not be eligible to join the giveaway.
Employees of Dragonpay Corporation, including their relatives up to the second degree of consanguinity or affinity, are disqualified from joining the giveaway.
Dragonpay reserves the right to disqualify winner/s that are suspected to be invalid or fraudulent (i.e. abuse of system).
By joining this campaign, participants hereby agree to give consent to Dragonpay Corporation on having their usernames appear in Dragonpay's Facebook and Instagram account for announcement purposes.
Dragonpay will not require users to post personal data in all Dragonpay's social media platforms to enter this giveaway.
DTI Fair Trade Permit No. FTEB-148707 Series of 2022
Grow your business today!
Dragonpay makes it easy for you to accept various payment methods for your business.