Shop Online with TendoPay and Pay in Installments even without a Credit Card!
Make your shopping experience easier for your pockets by paying in installments! Through our partnership with TendoPay, you may now purchase from Dragonpay-accredited merchants and pay later on a 2 to 12-month installment plan. The entire process is done online and takes only around 15 to 20 minutes. Yes, it is that fast and easy. You may now experience the convenience of shopping through installment payments with just a few clicks. Just follow these easy steps and you're ready to go. 
For more information about this service, please visit TendoPay's FAQ page.
NOTE: Before choosing this payment option, make sure you already have an approved loan from TendoPay. To apply for one, click here.
Step 1
Apply for a loan with TendoPay, learn more by clicking here.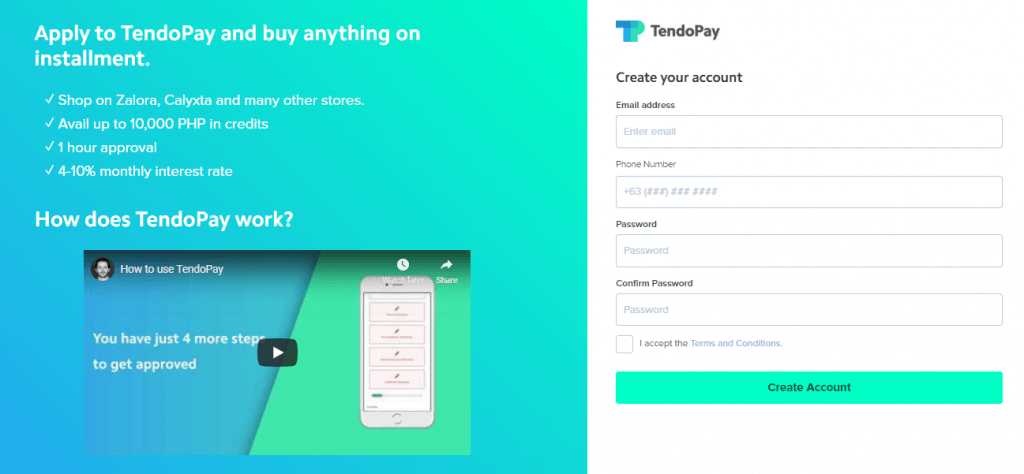 Step 2
Upon checkout, choose TendoPay Installments as your payment option. Choose this only if you already have an approved loan. Total basket amount must be at least PHP1,000 up to the credit limit that TendoPay has approved for your account. 
If TendoPay Installments is not available, it means that the store/merchant have not activated this service yet or the amount to be paid hasn't reached the minimum loan amount. For the list of merchants who activated TendoPay Installments, please click here.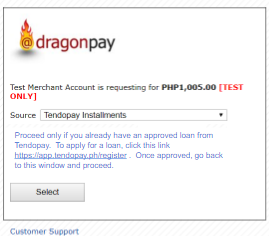 Step 3
You will be prompted to log in to your TendoPay account and will be able to choose your repayment
schedule. The breakdown of your payments will appear based on the number of months by which you
wish to complete your payment. Click 'Confirm Purchase' to proceed.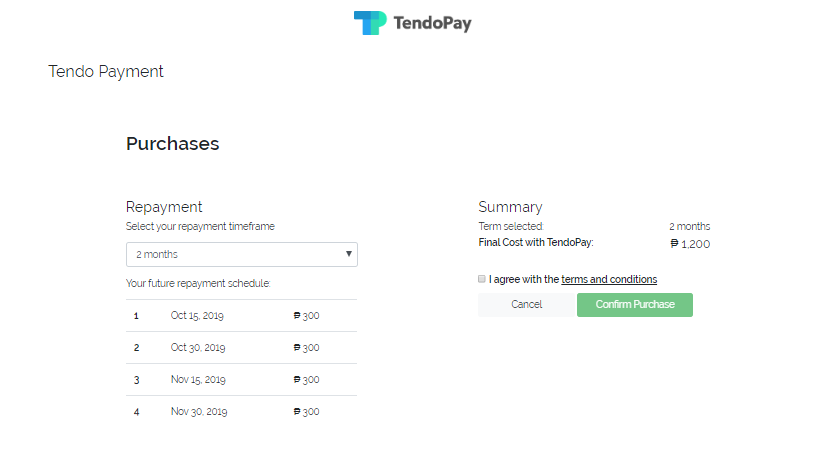 Step 4
 A window will appear confirming that your payment was successfully processed. You will receive a payment confirmation email from Dragonpay as proof of successful transaction and TendoPay will also send you an email indicating your payment schedule. You may also immediately pay your loan in full should you eventually decide to settle earlier. 
NOTE: One account is entitled to one installment transaction at a time, you can make another purchase only after you have settled your previous loan. Once payment for a loan is completed, your account would automatically be entitled again for a new loan transaction with an increased credit limit.  Keep using your loan credits in order to increase your credit limit for your succeeding transactions.
For more information regarding repayments, you may read TendoPay Repayments info page. 
Your dream purchases are just a few clicks away. Shop now and pay later!
Didn't find what you're looking for?